Millennial sees farming as his first choice
Who grows the seeds that farmers use? A millennial farmer and seed grower hopes to inspire the new generation to seize opportunities in agriculture. He shares his experience with the Creative Young Farmer program of East-West Seed, which just recently ranked #1 out of 13 seed companies in the Global Access to Seeds Index.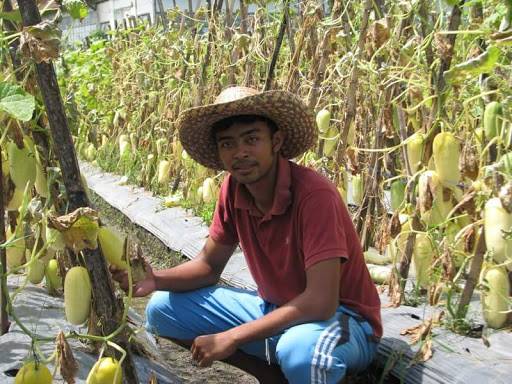 "Being a farmer may not be a dream job for most young people, but not for me. It is my first choice."
↓ Jump to Access to Seeds Index scorecard
Dwi Kusma Hadiyanto grew up in a farming family in Jember in the East Java province of Indonesia. His father has been a seed grower for tropical vegetable seed company East-West Seed since 1995, and encouraged his son Hadiyanto, whom he calls "Adi" to take agronomy at the University of Jember.
At 30 years old, Adi is a very successful seed grower himself. Most people his age don't understand why he chose farming as a profession.
"I do not blame them because most parents do not want their children to be farmers. They are more proud to see their children become doctors, civil servants and other professions. Farming is still seen by many as a lowly profession, one that does not provide a bright future. But I disagree," said Adi.
"To me, being a farmer promises good income similar to other professions like IT or engineering," he added. "Young farmers like us are in a great position to take advantage of sophisticated technology that is now accessible to us. Combined with the availability of natural resources, we can really make something out of agricultural production."
"Being a farmer may not be a dream job for most young people, but not for me. It is my first choice."
Adi joined the East-West Seed Indonesia (EWINDO) Creative Young Farmer program, which aims to inspire more next generation farmers to become seed producers. In this program, young people (below 30 years of age) are trained and mentored to become ambassadors for the profession of seed grower by East-West Seed providing them with training in seed production and resource management and connecting them via social media to share their knowledge and experience with each other.
Do you want to help improve the lives of smallholder farmers?
Talk to us to enquire about a range of partnership possibilities, from project collaborations to dealerships and distribution.
Talk to us
Global Access to Seed Index
Access to Seeds, an independent organization funded by the Bill and Melinda Gates Foundation and the Dutch government, yesterday announced the results of its Global Seed Index.
It placed East-West Seed in the top rank, besting 13 other global seed companies on their commitment and performance in providing the world's smallholder farmers access to quality seeds. East-West Seed scores high in the Seed Production measurement area because of its collaboration with smallholder farmers, who account for 95% of its production.
Stay Updated
Join our mailing list so that we can update you on our news, innovations and product information.
Access to Seeds aims to shine a light on how seed companies can step up efforts to improve access to quality seeds of improved varieties for smallholder farmers. It believes that seed companies are a crucial partner in efforts to raise smallholder farmer productivity and achieve food and nutrition security.
In November last year, the South and Southeast Asia Index was launched which also placed East-West Seed at number 1 among 24 companies surveyed. This is a four-peat for the Asia-based company, sustaining its good performance in 2016 when the first Seed Index was released and where East-West Seed led the pack in the Global Vegetable and East Africa indices.
Zoom in to read the Access to Seed Index scorecard for East-West Seed below:
East-West Seed tops the 2019 Global Seed Index, outperforming 13 other global seed companies on their commitment and actions to provide the world's smallholder farmers access to quality seeds.
Shifting mindsets
Adi is more an exception than the rule at the moment, but he hopes to see more young entrepreneurs go into farming.
"But first we need to change their mindset."


"The reason I chose to focus on seed production is because it is our basic human need to eat vegetables and fruits. Our population will grow, and with it the demand for more nutritious food will grow too. This will increase the demand fopwiki&hl=en_US" title="Download on Android device">
He hopes that the Creative Young Farmer Program can continue to serve as a forum for the new generation of farmers. He and his fellow participants have built a solid community because of the program, and up to now stay connected on Whatsapp and social media, exchanging information such as solutions to common problems like pests and diseases.
Adi has good advice for fellow millennials: "For young farmer friends who want to farm, don't be embarrassed. Farming is a noble job, a cool profession. Our office is in the middle of the field, we set our own working hours, and we can earn income just as well or even more than other professions."
Want to know more about our products? Download CropWiki from your app store here: