East-West Seed partners with governments, farmers groups, universities for Mekong Delta rural economic improvement
The Hague, Netherlands -- Leading tropical vegetable seed company East-West Seed renewed its commitment to smallholder farmers and the development of Vietnam's rural economy through a project to enable farmers to respond to drought and salinity in the Mekong River delta.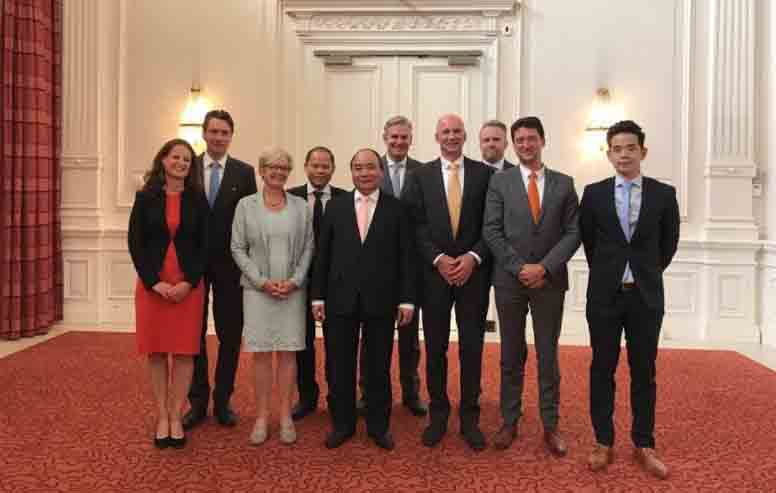 Vietnam PM Phuc with the Vietnamese Netherlands Chamber of Commerce at Kurhaus Scheveningen. East-West Seed is represented by Maaike Groot, company representative for Europe (left most).


The project was presented to Vietnamese Prime Minister Nguyen Xuan during his state visit to the Netherlands from July 8-11 at the invitation of his Dutch counterpart, Prime Minister Mark Rutte.
The Mekong Delta has been struggling through severe drought episodes and salinity intrusion for several years, which escalated recently due to the 2016 El Niño phenomenon, the second most severe since 1965. The Vietnamese government has recognized this as a serious concern and set a call to address and take action on these climate challenges. Approximately 60 per cent of the Mekong River Basin's population rely on agriculture for food security and livelihood.

The project aims to find ways to respond to salinity and drought to the Mekong River delta by collecting information on crops with a focus on salt and drought tolerance and identifying field level technologies and strategies to deal with salinity and drought. It will include practical applications and will seek to find out what works through on and off farm experiments and crop testing. Successful response strategies will be scaled up via farmer and private sector networks

A key success factor to this project will be the cooperation among the various stakeholders: farmers, research, and the private sector. The Vietnam Farmers' Union; Nong Lam University; Land, Water & Food Consult, East-West Seed and Wageningen University are partners in this project.


Deepening Vietnamese-Dutch cooperation

The mission led by Prime Minister Phuc seeks to deepen cooperation between the Dutch and Vietnamese governments and businesses from the two countries.
Joost van Elzakker, East-West Seed general manager for Vietnam (right most), speaking at the business forum organized during the visit of Vietnam Prime Minister Phuc to the Netherlands.


East-West Seed attended a Vietnam-Netherlands business forum and a round-table talk with other major enterprises and investors including Rabobank, FrieslandCampina and Zuellig Pharma. Climate change adaptation, water management, agriculture, energy, sea-based economy, and logistics services were identified as priority areas for cooperation.

The Netherlands is among the largest European investors in Vietnam, ranking 11th out of the 119 countries and territories investing in Vietnam with 287 projects worth 7.7 billion USD.

East-West Seed's footprints in Vietnam
East-West Seed started operating in Vietnam in 1997 and was the first company to develop vegetable varieties, including new varieties, improved hybridization varieties, high technology varieties, all of which have helped to ramp up the vegetable industry and improve the income of farmers.

East-West Seed is known in Vietnam as the brand Hai Mui Ten Do ("two red arrows" in local language). It delivers nearly 100 different vegetable varieties to Vietnamese farmers, including many varieties with high economic value: Demon pepper, Tiela chilli, Suprema pumpkin, Arjuna pumpkin, sweet corn Tím dẻo 926, Tím ngọt 099, cucumber, Hunter 1, HMT 356, bitter gourd HMT128.